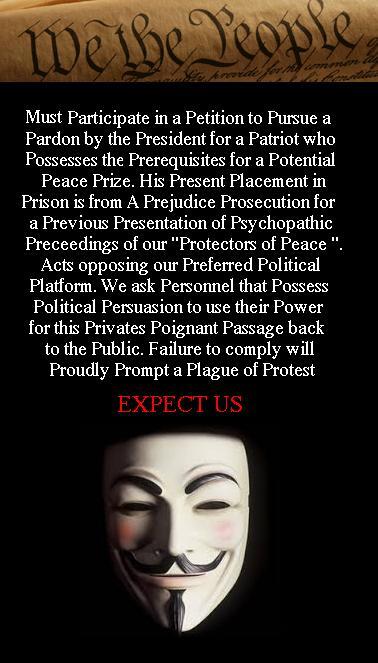 Instructions for the #PardonMANNING daily twitterbomb
* Do this EVERY DAY for 1 hour starting at 6-8 PM YOUR TIME from NOW UNTIL MARCH 25th or until there are 100,000 signatures.
* Continuously tweet using the hashtag #PardonManning and the petition link and/or this page.
* In order to trend, everyone must tweet using the hashtag. YOU CANNOT JUST RETWEET OTHER PEOPLE. YOU HAVE TO TWEET YOURSELF!  The best thing to do is click on #PardonManning and copy and paste other user's tweets regarding Bradley Manning and tweet them out yourself. Do this as fast as you can, as long as you can.
* IT'S OKAY TO STEAL OTHER PEOPLE'S TWEETS DURING THE TWITTER RIOT.
* Remember! It's important you use the #PardonMANNING hashtag and link to the petition with every tweet.
* Aim tweets at people who you think will help spread it, or at US elected representatives or #celebs.
Michael Moore @MMFlint – Roseanne Barr @TheRealRoseanne – Kim Dot Com @KimDotCom – most epic journo Greg Palast @Greg_Palast – and to our great joy – @LadyGaga have helped, as have large Occupy, Anonymous and other activist accounts, so remind them that this will be going on until March 26! 
While trending itself is important to help raise awareness, the content of the tweets should include some information regarding Pvt. Bradley Manning so that we can educate people about his situation. One thing you can do is copy the individual news articles that are listed on this page http://www.bradleymanning.org/category/news and tweet them out so that people will know why it's important to sign the petition.
Bradley's full statement to the court last week, thanks to the amazing transcription by Alexa O'Brien @carwinb
Nobody has any illusions that the Obama administration will change it's campaign of overzealous prosecution of whistleblowers, but forcing them to acknowledge public opinion is another black eye for an administration that has a worse human rights record than his arguably psychopathic predecessor George "Dubya" Bush.
So let's shove 100,000 signatures in their faces and show our elected officials that we don't mind taking pointless actions to make a point.
Because he carried out actions consistent with his oath
and his legal and moral obligations.
A 15-month investigation by the Guardian and BBC Arabic reveals how retired US colonel James Steele, a veteran of American proxy wars in El Salvador and Nicaragua, played a key role in training and overseeing US-funded special police commandos who ran a network of torture centres in Iraq. Another special forces veteran, Colonel James Coffman, worked with Steele and reported directly to General David Petraeus, who had been sent into Iraq to organise the Iraqi security services.
This film includes references to torture and killing of Iraqi citizens by Iraqi "police" under the direct supervision of the hand-picked death squad trainer James Steele. Many such incidents are described in the diplomatic cables to the White House, provided by Bradley Manning to Wikileaks. In his statement Bradley Manning describes how disturbed he was to witness these rampant human rights violations, which he unsuccessfully attempted to report through proper channels, and which went uninvestigated by order, Frago 234.
For much more please read darkernet.in/the-iraqi-wolf-brigade-frago-234-us-war-crimes-tribunal-investigation-2/
Poster source:  sulia.com/channel/white-house/f/11c95b42-ee8c-43a2-a6bd-856facbacae7/